Lynk 2022 – The stats, facts and miscellaneous
Lynk has released its 2022 roundup with some interesting and eyebrow raising stats. Times have certainly changed quickly, with 2021's most popular destination being Covid vaccine centres to 2022's busiest rank being Dublin Airport, Irish people are certainly shifting back to normality. However, with rising fuel prices and digital tariffs on mandatory contactless payments, the price of running a taxi has never been higher. Many Lynk drivers shifted to more sustainable vehicles in 2022, thanks to the government e-vehicle grant, saving them up to €20K on an electric car. From the most famous passenger, the amount of "pukers" and "leggers" who didn't pay, to the longest and shortest journeys, the Lynk roundup gives some insight into the Irish consumer mindset, with some levity. Full stat overview: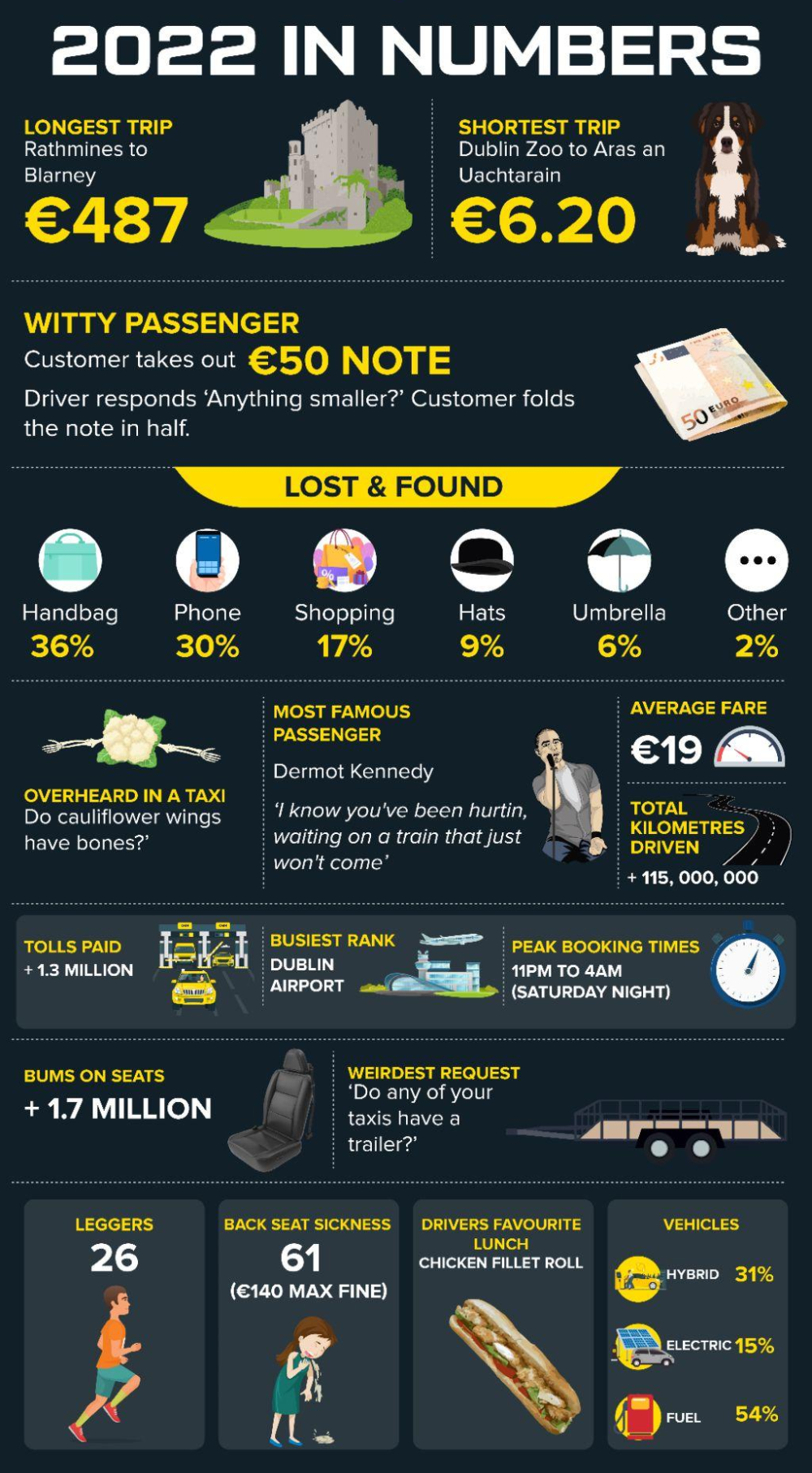 Over 7M passengers got into Lynk taxis across 2022.
The most popular taxi rank of the year was Dublin Airport. An increase in tourism post-pandemic seen the ever popular destination get a resurgence of taxi bookings.
Lynk is continuing its more sustainable approach in 2022. Almost half of Lynk's fleet (46%) are now driving hybrid or electric vehicles. Hundreds of drivers opted to take advantage of the electric grant which seen drivers save €20k on a new electric vehicle. With the impact of rising fuel costs, more and more Lynk drivers are opting for an electric option.
It's safe to say that everyone has left an item behind in a taxi at some point and 2022 was no exception. The most common items left behind are handbags (36%) and mobile phones (30%). As always, Lynk drivers did everything they could to reunite owners with their lost belongings and when not, they leave the items at the closest Garda station.
Longest taxi trip – Rathmines to Blarney. Four customers took a cab to a wedding and split the €487 for the 260km journey.
Shortest taxi trip – Dublin Zoo to Aras an Uachtarain. The four minute, 2km drive cost €6.20.
Lynk Taxi drivers paid over 1.3 million tolls throughout the year of 2022 and drove over 115M kilometres.
The average Lynk taxi fare in 2022 was €19. Overall a very reasonable figure considering the 12% mandatory meter increase in September to help taxi drivers continue to make a living while managing rising operational costs.
Peak booking times for Lynk in 2022 were from 11pm – 4am on weekends, when people are wrapping up their nights out and want to get home safely.
Unfortunately passengers don't always behave as they should in taxis with 26 "leggers" in 2022 – people who run rather than pay their taxi fare!
61 passengers got hit with a soilage charge in 2022. Lynk implores customers to be careful in taxis as the €140 soilage charge is not to be sniffed at… and is required to cover the taxi's time off road and the valeting service needed. Hold it in, or pull over!
The favourite lunch of Dublin's taxi drivers is of course, the chicken fillet roll. However, many drivers report a huge increase in price with some places charging up to €8 for the national delicacy.
The life of a taxi driver can be quite glamorous, with 2022's most famous passenger being the beloved homegrown hero, Dermot Kennedy.
Not just glamourous, taxi driving can make for some of the best stories. In 2022:

One passenger offered to fold a €50 in half when asked "for something smaller." While the wit was appreciated, a good tip for passengers is to always bring smaller notes or pay by card.
One prospective passenger asked for a taxi with a trailer, as their car had broken down and thought this would be a cheaper solution than a tow truck. While the team at Lynk appreciated the ingenuity, unfortunately taxis do not have trailers.
One of the biggest perks of being a taxi driver is getting to hear some of the most outlandish conversations… one driver overhead a passenger ask "do cauliflowers wings have bones?" Lynk can officially confirm that cauliflowers do not have bones… but they do have a head.