Lynk Taxi Web Booker for Receptions
The Lynk Web Booker is an all in one dashboard that receptionists or concierges can use to quickly and easily book taxis for guests. Users can simply login from any computer or tablet device and request taxis immediately or for a scheduled time. All a guest needs to do is provide their booking details to the receptionist (name, number, destination, payment type) and then the taxi can be booked in a couple of seconds.
Login to your Lynk Web Booker
Save the web booker URL below as a favourite in your web browser (preferably Chrome). To add a favourite, tap the star icon the top right of the page.
Login – https://book.lynk.ie/login
Username – Enter your email or 8 digit ID
Password – Enter your password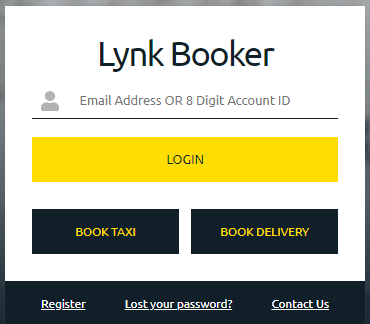 Forgot Login/Password
If you no longer can remember or cannot gain access to your Web Booker, please email customercare@lynk.ie. We will be able to send you a new secure login.
Book Taxi for Guests
When logged in you will be on a tab called 'Book Taxi'. Start at the top of the booking form and work your way down. Make sure to fill in important details like the time (now/scheduled), passenger name, address and destination.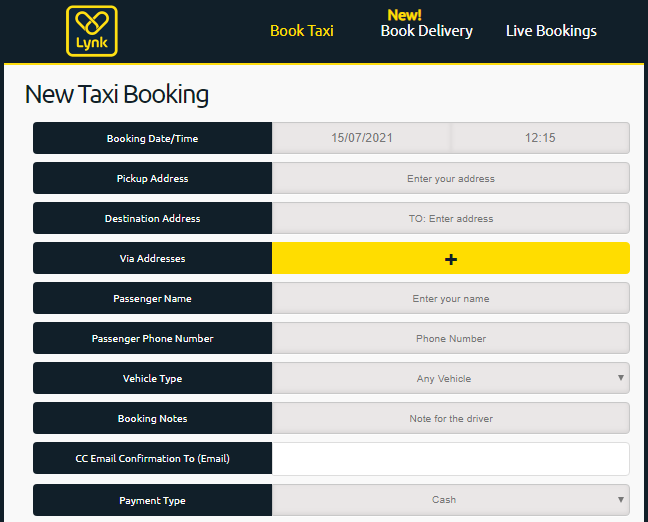 Vehicle Types
Any vehicle
protection screen
Multi seater (6-8 people)
Wheelchair accessible
Payment types
Cash
Card in Car (customer can pay by card in taxi)
Track Booking
When you book a taxi you can manage it under the 'Live Bookings' tab. From here you will be able to track, edit or cancel live/pre-booked taxis.
If you have a live booking, your drivers details, estimated time of arrival and map tracking can be located here if your guest requires this information.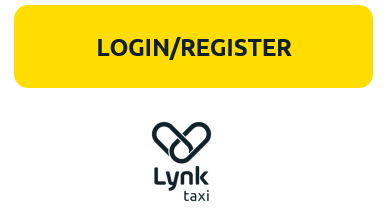 ---