New Web-Booker
Introducing the brand new Lynk Web-Booker. The perfect solution for booking your taxi through any desktop or mobile device. Ideal for hotels, receptions & personal assistants.
The existing version will automatically redirect to the new version on Wed 7th February 2018.

Getting Started
Save the new Web-Booker URL as a favourite in your web browser (preferably Chrome): Click Here

new web booker
To create a favourite, just click the link above and when the page opens tap the star icon on the top right hand corner of your screen.
Alternatively you can access the Web-Booker anytime through the Book Online tab on the navigation bar on the Lynk homepage.
Login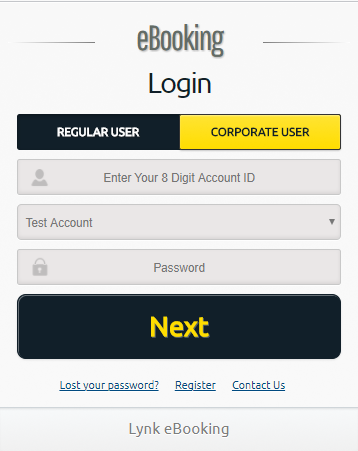 Corporate User
Choose 'Corporate User'
Username – Enter your 8 Digit Account ID
Password – Same as 8 Digit Number above
If you have forgotten your 8 digit code please call 01 473 1122 (24/7) or email accounts@lynk.ie (office hours only)

Regular User
Register your details (if not already setup)
Login

Create a New Booking
Once logged-in, the Web-Booker is easy to use and creating a booking is simple. Start at the top of the booking form and work your way down. To learn more about the Web-Booker & its new features, check out the User Guide.