Back to work? Here's the best way to travel
As we adapt to the new normal, there are changes that we now have to consider for the first time. From how many people we come in contact with to how we travel day today. Commuting on public transport can be crowded and even stressful at the best of times which isn't ideal especially now.
If you're not within walking distance of where you need to travel, it's time to rethink how you get around. 
 Lynk Taxis are adapting to the new normal with the introduction of ''Protective Screens'.
What are they –
A clear perspex screen fitted securely between the front and back of the taxi, this means you and your driver are separated for the whole journey.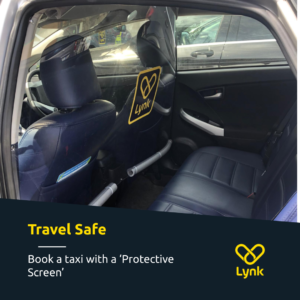 How it works – 
By choosing a protective screen taxi, it limits the number of people you come in contact with as well as giving you a lot more personal space in comparison to public transport. Each protective screen gives you your own ventilation providing you with an extra piece of mind as you travel.
How to book –
You can now select the option of a protective screen when booking your taxi. When booking via App / Web booker – choose your vehicle type and select a protective screen, or just give us a call on (01) 8202020. Simple!